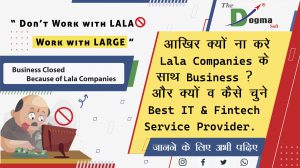 With each passing day, we hear the news of the beginning of a new company in the IT and Fintech sector, however, everything that shines isn't gold and in the same way, all the companies are not trustworthy and reliable to start your Fintech Franchise business in India.
The organizations those are self-centered and squeezing every single penny from their consumers and franchisee are collectively known as Lala Companies. The word "Lala" means the ancient boss men that chose to work in administration services rather than in Services like bankers, merchants, tradesmen, schoolmasters, and clerks.
We have a variety of reasons that you should work with companies like Dogma Soft Limited rather than the so-called Lala Companies in India. Let's cut the chase and find it out.
Lack of Authenticity:

The Lala companies lack authenticity, most of the time. The reason behind it is that they do not prefer quality over quantity. Being a large company, Dogma always dispenses authentic & Authorised Banking & Non-Banking Services to its franchisees. Most of the Lala IT and Fintech companies in India provide low-standard services to their franchisees for their own money-making purpose that ends up doing fraud with their franchisees. So choosing quantity over quality is like adding insult to an injury.
---
Hoax of High Commission:

You must have heard that a newbie (Lala) company is providing surreal commissions to its franchisee. In most of the cases, this is just a trap to lure the customers. This offer of unbelievable high commission ends as soon as the franchisee gets registered. So it's better to not fall into this trap of high profits. Dogma Soft Limited has a consistent record of many years of providing the best commission in the market accompanied by the real-time settlement of commission.
---
Delayed or No Customer Support:

Another trait of Lala Companies is that these companies do not provide on-time customer support to their customers or in worse cases, they do not provide any customer support. Unlike these companies, Dogma provides real-time and round-the-clock customer support to each and every franchisee. Dogma has manifold ways to provide support to its franchisee. This includes calls, Ticket Generation through App, 24*7 Live Chat & E-Mail.
---
Temporary Existence:

Lala companies tend to exist temporarily. Most of these companies in the IT and Fintech sectors are themselves based on white label software, so how can they provide the latest Essential and Governmental Services to their franchisees. Dogma Soft Limited has the profound expertise of many years in the field which is enough to define a large company's existence tendency.
---
Disturbed Service-Flow:

Lala Companies, however deliberately, offer different portals for different services, so that the franchisees have to spend more for various services. To make the business pocket-friendly for the franchisee, Dogma offers a multi-service portal at affordable rates.
---
Privacy Concerns:

Mostly All Lala companies have their name in the bad books of their customers for using their confidential data for the sake of their profit. In the IT and Fintech sectors, these companies can use the KYC data of their franchisees which is a matter of worry. It can lead the customers to severe consequences. Whereas reputed companies Such as Dogma Soft Limited always make sure that the privacy of their franchisees is not compromised at all and that makes their franchisees trust them.
---
Lack in being Socially Responsible: 

The foremost aim of Lala companies is to earn the highest profit at any cost. They do not take any social responsibility and don't care about social virtues. They create a hoax that they want to put social responsibilities to earn more and more profit. On the other hand, large companies always try to operate their businesses by taking care of social responsibilities.
---
Zero or Least Attention to Employee satisfaction: 

Employees are undoubtedly one of the key parts of every organization and they should be respected & appreciated by the organization. Lala companies do not pay attention to their employees and their work satisfaction however, the large companies consider their employees the key to success. We at Dogma Soft Limited, deem our employees as a vital part of our organization and always keep this thing in our minds. Dogma curtails the causes that put unwanted pressure on the employees.
So what's the solution?
When starting a business, everyone would want to grow their venture. However, it's our choices that make our business successful or unsuccessful. Choosing Lala Companies for any reason be it lack of knowledge or getting attracted to their lure of high commission can cause a downfall in your business. The only solution to these problems is to make wise business choices.
If you want to provide Banking & Non-Banking Services to your customers by being a fintech franchisee and want to start your Franchisee Business in the IT and Fintech field, then you must choose Dogma Soft Limited as it is the Best IT & Fintech Service provider company in India. It gives you Low-Investment Business Opportunity. As the result of persistent handwork and continued innovation, Dogma has a gigantic network of 2.25 Lakh+ Franchisees and further expansions are on their way. The authenticity of Dogma Soft Limited can be verified by the Social Media Platforms and The Testimonials of Happy & Satisfied Customers.
Conclusion:
Everyone deserves to start their very first business with a trustworthy and reliable company such as Dogma Soft Limited. Nevertheless, some hurdles may cause misconceptions in your mind. This blog brings your attention to some vital points that we often tend to miss out on while choosing the Right Service Provider.
So, we are wrapping up with hopes that you have concluded why you should go along and work with large companies rather than Lala companies, with the help of this blog.