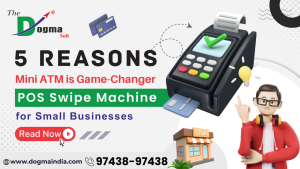 Do your customers often struggle while making payments at your shop? Welcome to the world of retailers where you are not alone.
In an increasingly digital world of today, small businesses need innovative payment solutions to stay competitive and meet the ever-evolving needs of their customers. One such game-changing solution is the Mini ATM POS Swipe Machine. This compact and portable device has transformed the way small businesses handle transactions, bringing convenience, efficiency, and security to the forefront.
In this article, we will explore five compelling reasons why a mini-ATM is a must-have POS Swipe Machine for Small Businesses. From its ease of use and versatility to its cost-effectiveness and ability to provide real-time transaction data, we'll cover everything in between.
So, fasten your seatbelts as we delve into the world of mini ATMs and uncover the revolutionary power they hold for small businesses.
What makes Mini ATM the Best POS Swipe Machine for Small Businesses?
A mini ATM is a Debit Card POS Terminal used to dispense cash, accept cashless payments & carry out several other banking administration at distant locations such as retail shops/stores or any other business place. This device can be leveraged to build such a payment experience for the buyers that massively boosts conversion, sales & business growth.
Here are 5 pivotal reasons why mATM is the clear winner when it comes to offering superior payment experience to the customers.
POS Plus Earning:

Mini ATMs come in a compact & sleek design making them easier to set up. These Portable POS Devices are so simple to install, utilize & maintain. Enterprises that do not possess huge business places can easily have a number of these devices without worrying about the occupation of extra space.

Additionally, you don't need to hire an expert just to operate these devices. Utilizing a mini ATM is an easy-peasy task that anyone can ace. Many service providers offer training sessions to learn all the functionalities from A to Z.

---

Offers Cash Withdrawal:

In the highly competitive retail landscape of today, customers look forward to something extra than they actually need. With Mini ATM POS Machine, not only buyers can make cashless payments, but they can also withdraw cash.

Yes, you heard it correctly. These devices dispense instant cash through debit card swipe or fingerprint authentication. It saves people from standing in long queues at banks & ATMs. With this, customers get another reason to visit your store, resulting in increased footfall.

---

POS Plus Earning:

What if we say that your POS machine will pay you? You might wonder, right? But this is so true. Every time a customer makes a payment or withdraws cash through mATM devices, the retailer earns a certain amount of commission.

To be precise, this commission is in addition to the transaction amount contributing to the income of the retailer. In a business, you can't just be limited to only one income stream, you always need more. This passive income is just like a cherry on the cake, you don't need to put so much extra effort into it. Just go with the flow and keep earning.

---

Pocket-Friendly Solution:

With notably economical installation costs & zero maintenance charges, mATM emerges as an affordable Debit Card Swipe Machine for Small Businesses. The mATM can be acquired through either a monthly rental plan or a lump-sum payment, anyone that is more convenient.

Recognizing the financial constraints faced by small businesses, a multitude of companies offer the mATM with zero monthly rental fees. This advantageous feature enhances its cost-effectiveness and ensures that businesses can allocate their resources efficiently. Moreover, medium-sized businesses can take advantage of substantial discounts when placing bulk orders, further enhancing the overall affordability of this solution.

---

Multiple Services in One Place:

These compact hand-sized devices are capable of much more than just accepting online payments. Customers can check their bank balance with a single click & fetch the details of the past few transactions in the form of a mini statement. Isn't this just amazing? Your Retail Point of Sale Hardware works likewise as bank software. This again saves a lot of your customer's time that they could have consumed in a bank or ATM, improvising their shopping experience even more.

These were the five clear points why mini ATM is an apparent winner when it comes to being the Best POS for Small Retail Businesses. Always remember, quality speaks for itself and be focused on having quality payment solution that appeals to buyers to keep visiting your store.
Things to Remember While Buying a Swipe Machine for Small Businesses:
Buying payment solutions is itself a significant investment and therefore the decision should be taken with great caution. There is a plethora of important factors to consider that make it daunting to know where to begin. Here we've narrowed down the list of factors you must consider.
The cost of the machine
Credit settlement time
Quality & design of the hardware
Reviews & testimonials of existing users
Amount of commission
Support facility offered
The best Retail Point of Sale Hardware is which consists of all the contemporary features while also being suitable to your budget. These requirements vary from store to store depending on the size & nature of the business.
How to Get the Best Mini ATM POS Swipe Machine & Install It?
5 compelling points mentioned above show how beneficial micro ATM devices are for retail businesses. But to unleash the maximum potential of these innovative devices, one must choose the best of both worlds.
So, how can a retailer get and install this to start using it? This question is genuine & vital. Amongst the chaos of the market, it is necessary to identify a reliable service provider company that caters to all your payment needs. One such leading and reliable company is Dogma Soft Limited which dispenses high-quality & robust Micro ATM Machines with pioneering technology. We, at Dogma, deal with an extensive network of franchisees including retailers, distributors, and other merchants. These numbers recite the trustworthiness & transformative potential that we hold.
Here is the step-by-step process to get an advanced Debit Card Swipe Machine for your store from Dogma Soft.
Step-1: Contact the company.
Step-2: Register yourself as an authorized partner.
Step-3: Place your order for mATM.
Step 4: Get your machine delivered.
Installation Process:
Once you have got your machine delivered, you will get an installation guide & instructions with the help of which you can easily install it at your shop. You can leverage our on-time support if you face any issues in installation.
To efficiently utilize POS Swipe Machine, you will be provided with a complimentary training session. Make the most of this training to face zero issues with it.
In addition to the mATM device, you can get access to a comprehensive suite of 100+ banking & non-banking services such as AEPS, Money Transfer, PAN Card Center, Bill Payments, Insurance, Bank Account Opening, Demat Account Opening, etc., and provide it further to your customers getting a commission on every service you offer. Isn't it a great deal? Go to our official website to know more about this.
In a Nutshell:
The retail industry is a goldmine of opportunities where the customer is the king and the lifeblood of any business. You must adopt to latest trends & technologies in order to make your business more customer-centric.
In this blog, we thoroughly learned why Mini ATM is an excellent POS Swipe Machine for Small Businesses that wish to offer an award-winning payment experience to their customer while minimizing the additional expenses related to operating the device. Alongside this, we got some insights on the things to take into consideration while purchasing payment solutions for your shop and the best company to go along with.
So, contact us now to make the payments at your shop quick, efficient, safe & rewarding with just a game-changing swipe.